I have been using the bucket filling system in my classroom for the past two years and not only do my students love it, I do as well. If you're not familiar with bucket filling, be sure to check out www.bucketfillers101.com.
On the first day of school I read this book: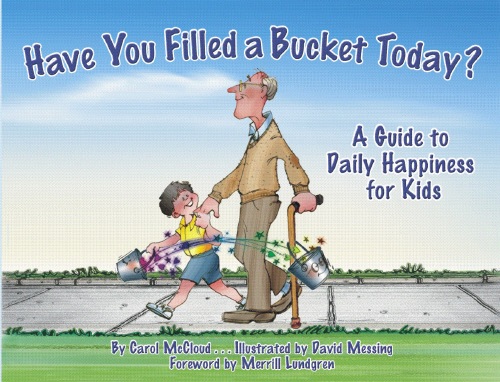 Image from teachingheart.net
After we read and discuss the book, we make an anchor chart together. I don't have a picture of mine but here is a picture of one that I found from Blog Hoppin' that Mrs. Williamson posted:
Once we make the anchor chart together, we make buckets out of scrapbook paper and pipe cleaners and list examples of bucket fillers and bucket dippers. I don't have a picture of this right now, but I'll be sure to post one when we make them next month.
Everyday from then on, students are able to fill out bucket filler slips and fill a classmate's bucket. Here is what my chart looks like. I stick a label with the student's name on each pocket.
*When we return from winter break, I usually reread the book and do a mini lesson for review on bucket filling!
*************************************
This coming school year, bucket filling is going to be promoted to the entire staff at my school. Here is where the Monday Made it comes in! I decorated a cute bucket from the Dollar Tree that will be displayed in our workroom. I used ribbon and stickers to decorate it! Teachers can fill out bucket filling slips and they will be read at our staff meetings.
and I found the cutest teal teacher bell at Target last summer and decided to add some bling to it! I just glued the rhinestones around the edges, super easy!!
Tara from 4th Grade Frolics is hosting Monday Made it, loved reading her post today, got so many great ideas from it! Be sure to go check out her blog!